The New Nissan Versa is Reliable, Versatile and Trustworthy
If you're in the Columbus area looking for a brand-new car, then you're in luck. At Nissan North, we have new and used vehicles that are ready to be driven to your desired destination. Our brand-new Nissan models will impress you from performance to safety technologies that enhance your driving experience. Our friendly staff is here to help you discover your full driving potential with a capable vehicle like a Nissan. You don't want to miss out on what we have in store for you.
Whether you're interested in a sedan, SUV, or truck, you'll be impressed by our models from the inside out. We have stylish vehicles that can't go unnoticed with innovations that make every drive a fun and memorable one. One model we are thrilled to share with our customers is the brand-new Nissan Versa. It has everything you're looking for and more where you'll feel confident on the streets of Dublin.
You can choose between three different trims to find a Versa that matches your exact personality and lifestyle. Each trim has its unique traits and focuses more on one area you might be interested in to have in your car, whether its safety or performance features. You can choose between
The Nissan Versa S
The Nissan Versa SV
And the Nissan Versa SR
New Nissan Versa Inventory
Sorry, no items matching your request were found.
Reset Search
Versatile Design
From every angle, no matter what trim you decide, the Versa is stunning. This model is larger and more expansive compared to the Nissan Sentra and Nissan Altima. The Versa looks significant with its chrome grille surround, chrome door handles, and its body-color outside mirrors. The doors are tall enough that makes getting into this sedan an easy entry and exit. There are bold and nice-looking alloy wheels on the higher-end SV Special Edition model that makes you stand out wherever you go.
A unique feature to the Versa is when you click the turn signal before getting out of your car, where the headlights will stay on for a short period to help guide you safely inside your home in Westerville. Every time you decide to click the turn signal, it will add on another 30 seconds of light to take as much time as you need to walk inside. For when it gets cold in Ohio, you can take advantage of the Remote Engine Start System that helps make sure you get inside your car when it's already warmed up for you. Once you are ready to go, there is a keyless entry that makes it easy to get inside and start your drive.
You'll be welcomed by a comfortable and cozy interior when you step inside the Nissan Versa. You'll enjoy the available Automatic Temperature Control system that features an intuitive control unit that lets you dial in your perfect temperature. For those frigid mornings before heading into work, you can use the available heated front seats that will warm you and your passenger up quickly.
When you're ready to pack up your Versa for a weekend trip or extended journey, you'll have plenty of space inside to load up. There is smart cargo space inside your Versa that makes it easy to be on the go when you're ready. The inside is roomy and highly flexible, with an impressive amount of trunk space for further space with low and wide opening for easier access to take all your cargo out.
There are available 60/40 split fold-down rear seats that allow you to change up your seating when you're hauling bigger or more gear. You can still fit a passenger in the back comfortably with your things set aside, so you and your passengers don't have to leave anything behind. Besides the split seating, there is also smart storage found inside the Versa; you can carry more stuff than ever, whether it's your phone or a water bottle when you drive around and send out on your daily activities. In case there's a point when you forget something in the back seat of your car, there is the available Rear Door Alert system that gives you a visual and audible alert to remind you to check your rear seat, so you don't leave anything behind.
Safety First
It's important that when setting out on any drive, you are always aware of your surroundings. When you drive the Versa, this sedan looks out for you wherever you go with Nissan's advanced safety features. Your car will be able to keep an eye on your vehicle's systems, assist you in handling unexpected situations, and help protect you in case of an accident. There are ten airbags located in the front, rear, and side in case of any impact; you'll be protected in all areas.
You can use the Anti-lock braking system that pumps the brakes faster than you can. If you need to slam on the brakes, Brake Assist detects how hard you're braking and takes it as an emergency where it applies a maximum braking force. Vehicle Dynamic Control monitors steering and braking, and it responds when needed by reducing engine output and using brake pressure to the exact wheels. When driving in intense weather conditions, there is a Traction Control system for when it senses drive-wheel spin, it responds by reducing throttle or applying brake pressure to wheels needed.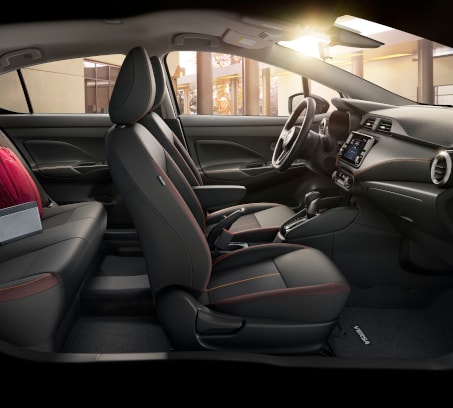 Visit Us Today!
Stop by our dealership today and experience the Nissan Versa first-hand when you come for a test drive. We look forward to meeting you.