The Versatile Nissan Rogue
 Here at Nissan North, we have always been impressed by the Nissan Rogue and have been waiting for the 2020 model upgrade to arrive to see how it measures up. When you step into our showroom in the Dublin area, you will find a compact crossover that will keep the reputation of the model on your lips for years to come.
The Rogue offers impressive gas mileage of an EPA-estimated combined 29 MPG and 33 MPG on the highway making this one of the best options available for any driver concerned about saving gas and money.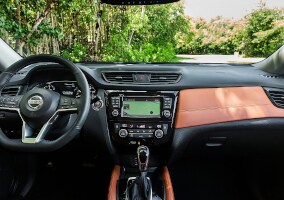 Powerful and Efficient Performance
The Nissan Rogue is equipped with a 2.5-liter four-cylinder engine that is one of the most efficient in this crossover range. The engine offers 170 horsepower to give you all the power you need to be coupled with a fuel-efficient nature that makes getting around Westerville, OH a breeze.
We have been impressed with the performance of the Nissan Rogue and want to share with you the impressive nature of this fuel-efficient vehicle. When you are heading on a trip out of town or looking to move around our city you will often need a little extra space to move cargo that simply will not fit in your Rogue. This compact crossover also offers you the chance to tow over 1,000 pounds.
If you have a more sporty and adventurous nature, we have you covered with a range of options that will allow you to extend your adventures no matter where they take place. The available all-wheel-drive trim level makes it easy for you to handle all kinds of terrain and landscapes as you enjoy the easy handling and powerful nature of the Nissan Rogue.
Safety is a Key Factor
There are few vehicles on the road that can compete with the impressive safety that is available from the Nissan brand. We believe you will enjoy the Nissan Driver Assist features that include the highway-focused ProPilot Assist that allows you to set the distance to the car ahead and let your Rogue handle braking and accelerating. The lane assist function keeps you in control of your Rogue by making sure you are not swaying out of your lane at any time.
One of the benefits of choosing the Nissan Rogue that you will be pleased to enjoy is the development of the Safety Shield 360 feature that is available on some trims in our lineup. The Nissan Rogue has a range of sensors and cameras that are used to bring you a better way of staying safe no matter where you find yourself on the road. The range of sensors you will find on this impressive crossover includes the Automatic Emergency Braking system that can give you a range of audio and visual warnings of pedestrians and other hazards that may make their way into your path. If the collision is imminent, the Nissan Rogue will automatically apply the brakes to help mitigate the effects of an incident.
One of the most dangerous times for any driver in and around Columbus, OH comes when reversing and it is difficult to see where you are going. Along with the backup camera, the rear automatic braking system uses sensors to make sure you do not have a collision with a stationary or moving object by applying the brakes when needed.
Technology You Can Rely On
The 2020 Nissan Rogue is all about connectivity with its technology focusing on keeping you on the go as you move around Columbus, OH and beyond. The Nissan Door to Door Navigation system is one of the most important features at any trim level as it keeps you on the move in the right direction at all times.
For those of you who want to stay connected at all times to your mobile devices, we understand the need for you to keep your phone connected. The Nissan Rogue is giving you the chance to enjoy your phone with easy access to Android Auto™ and Apple CarPlay®, these apps can make it easy for you to access your data, streaming services, and your messages with as little hassle as possible.
No matter what the reason is for wanting to stay connected, Nissan has found ways of making access as easy as possible. If you are wanting to track your packages from Amazon, it is easy to enable the Alexa skill on your Nissan Rogue to make sure you can track every order as you are driving on your busy day.
Any Trim Level Can be Enjoyed
When you enter our showroom you will have the chance to explore the three Nissan Rogue trim levels that can keep you on the road in the best way. The options include different drive systems with a front-wheel-drive and all-wheel-drive option available for you to choose between.
When you explore the S, SV, and SL trims, you will find yourself faced with a range of impressive options that include heated seats on the SV and SL trims along with the Intelligent Around View Monitor system that can be found on the SL trim.
Test Drive the New Nissan Rogue in Columbus, OH
To see what the Nissan Rogue has in store for you, contact Nissan North to schedule a test drive today!