Nissan Frontier: A Blast From the Past
The cargo box and strong interior make the Frontier a popular choice among contractors and others in Columbus, OH. It has impressive tow reviews and also a robust off-road rating too. With the powertrain options and comfortable rides, this pickup is a beautiful blend of being attractive yet aggressive for both work and play. This is a wise vehicle for those looking for a quality pickup that can be acquired on budget-friendly terms. Most importantly, it is not only safe but also one of the most reliable pickups in its class.
New Nissan Frontier Inventory
Interior
The interior design of the 2020 Frontier is an updated version of the 2005 model. Switchgear provides a clean and smooth operation. Also included is a hard-plastic habitat that is proper for both the tradesmen and trail raiders. Furthermore, the Frontier comes with tremendous front passenger space and the rear seats provide excellent legroom. The cargo area yields enough room to load at least ten carry-on bags comfortably. In addition, there is plenty of available space that will allow sufficient storage for smaller items too.
Exterior
With the rugged exterior design, the new Frontier is ready to take on some of the toughest jobs near Dublin. This midsize SUV is prepared to show off its power and brute strength to overcome any obstacle and is ready to assist you at any moment. For example, if you have a King Cab, this option will allow you to complete your biggest hauls. With the rear doors being full swinging, there is easier access to the rearmost part of the cab.
Performance
The Frontier uses a five-speed automatic transmission that is powered by a V6 engine. With this type of power, it has a towing capacity that rivals all of its competitors in its class, and for those buyers who enjoy manually shifting gears, Nissan provides a five-speed manual four-cylinder engine. The V6 engine has been shown to be most compatible with the six-speed manual. Fuel efficiency is great. The latest model of the Frontier enjoys an EPA-estimated 20 miles-per-gallon from a recent fuel-economy test.
The Frontier provides an exceptionally smooth ride with excellent handling and control for the driver. The up and downshifts transfer between gears seamlessly, and it has plenty of power. The steering responds well upon the touch command of the driver. The braking system is excellent too. The new Frontier has impressively been shown to stop within an estimated 189-feet, slowing from a speed of 70-miles-per-hour. There is a towing capacity at a remarkable 6,710-pounds. This ranks the Frontier near the top compared to its rivals.
Technology and Safety
The Frontier's infotainment system will compliment your travels near  Westerville, OH. It comes loaded with a seven-inch touchscreen. On higher levels of trim, you have additional groupings of standard technology that can enhance your riding experience. With further safety features added, the driver experience significantly increases because of all of the safety measures that are coordinated into the adventure. Overall, the Frontier has performed well during safety tests compared to those in the midsize pickup class.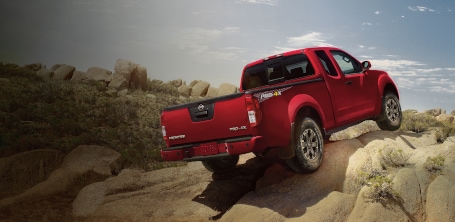 Trim Levels
There are five levels of trim that will be available, including the:
The new Frontier provides an extended King or four-door Crew Cab that comes with a 5.0-cargo bed. With some crew cab models, a 6.1-cargo bed is optional. Since the rear seating area of the four-door model has limited space, it is recommended that the King Cab be chosen with your selected trim will yield the most space. In some instances, you can add about $4,700 of value to the base Frontier. The Crew Cab brings additional legroom to the rear seat.
To maximize a combination of space and technology, the Value Truck package for the King Cab provides a tremendous number of upgrades such as:
Technologically heated front seats
A leather-wrapped steering wheel
A spray-in bedliner
Rear parking technology
A trailer hitch receiver
An in-bed channel system
Much more
Warranty
While warranties help in protecting the overall quality and value of any vehicle, the 2020 Frontier is available with two different warranties:
A limited warranty of three years or 36,000 miles
A powertrain warranty of 5 years of 60,000 miles
Both warranties allow Nissan to improve public confidence in knowing that they stand behind the manufacturing of their vehicle. The Frontier is not only a proud member of the Nissan family's 2020 lineup but also a standout quality-made pickup truck. The reliability of this vehicle is exceptional.
Learn More By Contacting Us At Nissan North!
The all-new 2020 Nissan Frontier is a solid pickup that has stood the tests of time. It continues to mystify its audience with its low maintenance records and its ability to maintain its value over time. For a midsize pickup, it stands strong against rugged terrain and gravel roads. If it is on a smooth road or not, the shock absorption of this pickup is very consistent regardless of the terrain. Today, Frontier lovers since 2005 still enjoy the latest masterpiece. With the reengineered updates to the brand and having a showroom shine, any driver would enjoy the value and driving experience that the 2020 Frontier brings.
Our team in Columbus, OH is excited for the redesigned Nissan Frontier!  Contact or visit us in person to schedule a test drive today!