HAPPY ANNIVERSARY!
NISSAN/NORTH
is celebrating  38 years in business this year. 
The launch date was February 15, 1983.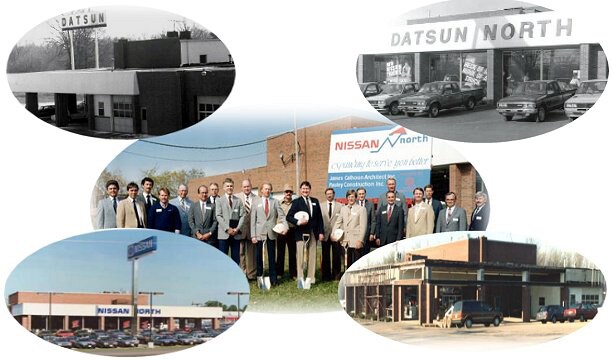 Nissan/North celebrates its 38th anniversary this year.  The start up date was February 15, 1983.  The success of this company fueled the creation of Northern Enterprises and all its affiliated companies. 
     Last year saw explosive growth for Nissan/North.  The Auto Center subsidiary was opened for business in an extensively remodeled facility.
     We recently acquired additional land for vehicle storage behind the Auto Center property.  This area is outlined in yellow on the photo above.
     The entire High Street complex is now just under ten acres.  The highway frontage extends for one quarter mile.  That's more than four football fields! 
     This expansion allowed Nissan/North to increase its retail vehicle sales by over 48% in 2016.  An average of 240 new and used cars and trucks were delivered every month out of the three buildings.
     As they begin their 38th year, the Nissan/North team plans to continue to grow sales and satisfied customers at their High Street home! 
Hours
Monday

10:00 AM - 8:00 PM

Tuesday

10:00 AM - 8:00 PM

Wednesday

10:00 AM - 8:00 PM

Thursday

10:00 AM - 8:00 PM

Friday

10:00 AM - 6:00 PM

Saturday

10:00 AM - 6:00 PM

Sunday

We are open some Sundays. Check back!